Who said sports and intellect weren't good bedfellows?
I often translate sports related texts, I am thus quite interested by the lexical fields used by sports journalists, such as the war references for games that are supposedly peaceful – or even pacifist (« At the end of a fierce struggle, X defeated its arch enemy Y, who finally surrendered« ).
Last summer, in the newspaper L'Équipe, the linguist Claude Hagège was briefly interviewed. From « no trouble » to « Du côté de chez Swann, » from culture to ignorance, he analyzes good and bad habits of sports journalists and how they copy one another without any qualms.
Claude Hagège also says he's delighted to see the newspaper using the past simple tense: he should maybe avoid visiting the UEFA.com website, since we always use the imperfect tense in French… Anyway, here's the full article.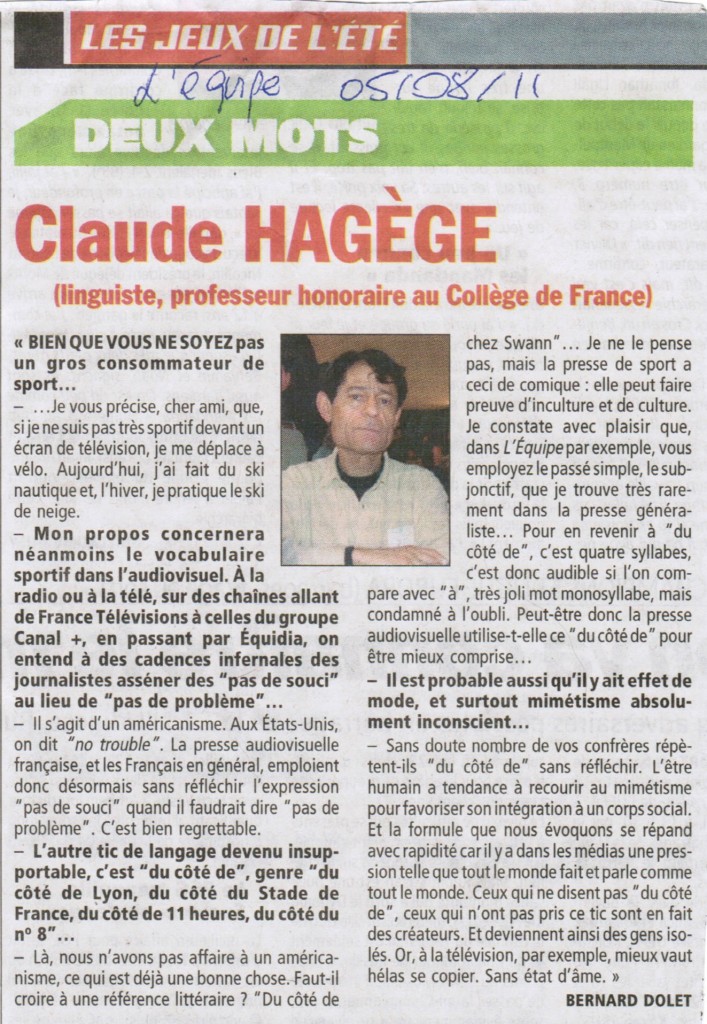 On the same subject, during my stay in Barcelona I found an interesting little book from Néstor Alonso Hernández: « El Lenguaje de las crónicas deportivas » (ed. Cátedra), which analyzes the grammar, the syntax and the vocabulary of sports chronicles
PS: Sorry for the silence, I have been very busy and still am. In the next posts, I will try to write about the Glagolitic alphabet I saw in Croatia, as well as two purely froggy subjects about freelance working. Please be patient.