A few days ago, I was writing about commercial translations such as in Calvin Klein TV ad or Levi's posters in the Parisian subway. I was largely inspired by Les Piles' blogpost. I couldn't find that Levi's ad (maybe I don't go out often enough), but I stumbled upon another phenomenom that I wanted to share here.
This time, the culprit is Nike, though I must say that the translation is not that bad: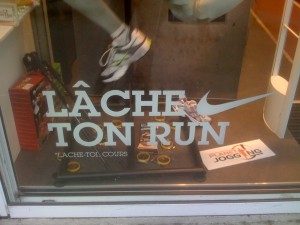 Lâche ton run (which means… well, not much in French, but literaly « Release your run »), with the everpresent little star and the so-called translation: Lâche toi, cours ( something like « Work off, run »). Well, for once, I have to admit that I largerly prefer the translation over this bad pseudo-catchy frenglish phrase.
What about you? Do you think it really works?